For Parents
A fan favorite is back! Our OverNights are back for a limited time. Get them before they're gone!
Get ready for a flavor-packed breakfast that both you and your little one will adore! Our Cinnamon Apple Buckwheat Overnights are a delightful blend of apple crisp-like goodness, just like the ones mom used to make!

Our chia pudding keeps parents fueled for the busy day ahead, and provides an easy way to give iron to kids! 
Preparing this wholesome treat is a breeze. Simply add milk, refrigerate overnight, and in the morning, grab and go! Need an extra cozy touch? Feel free to heat it up in a microwave-safe bowl if you're feeling a bit adventurous. 😉
Ingredients:
Sprouted Buckwheat*, Flax Seed* Chia Seed*, Apple*, Raisins*, Cinnamon*
*Organic
Buying in bulk?
OverNights last one year in the pantry. By freezing them you can increase the shelf life to 2 years! 
Regular price
Sale price
$5.00
Unit price
per
Sale
Sold out
Share
View full details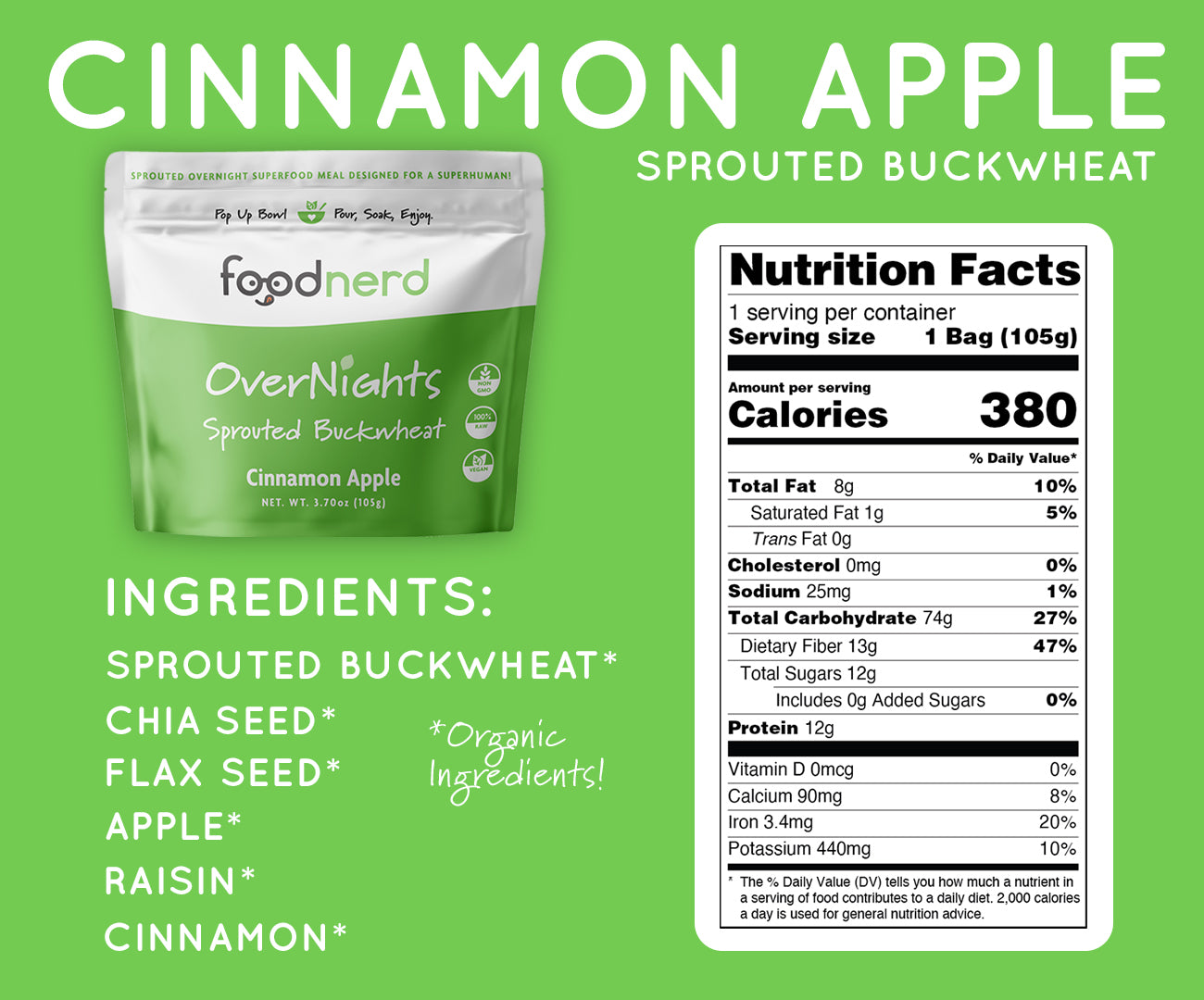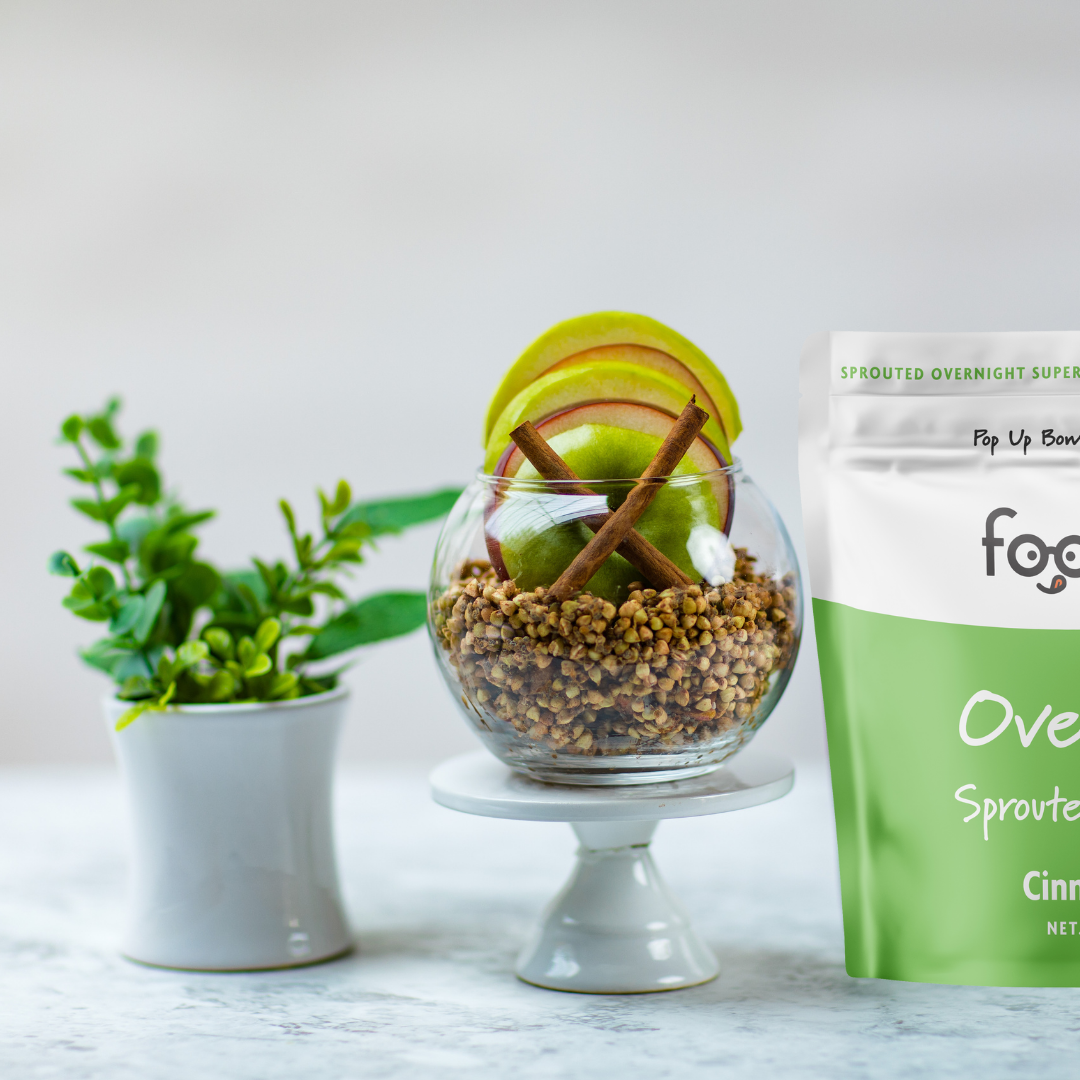 Felt better!
Delicious Overnights. After eating an Overnight for dinner, I felt noticibly better the next day. I will order again.
So good and so easy
I love my overnight oats so much . Tasty , easy and so very healthy . I can almost feel my cholesterol lowering and my gut bacteria improving with each bite : )
Cinnamon apple goodness
The buckwheat cinnamon apple is one of my favorites from foodnerd. I eat one every day. So filling and great taste.
The sprouted buckwheat in my favorite!
I absolutely love the overnights cinnamon apple buckwheat. It's so nutrient dense, easy and delicious 💚
Delicious breakfast
It never occurred to me that I could get a delicious and nutritious breakfast with very little preparation. I am an instant fan!
Healthy and delicious
Love this breakfast option. I put it in a bowl and warm it up in the microwave for 30-40 seconds. Delicious and nutritious!
Frequently Asked Questions
What are Phytonutrients?

These are nutrients we obtain from specific plants that have demonstrated significant benefits for our health. They help strengthen our immune system and help children with their development during their first years of life. Natural products like beans, nuts, and whole grains have a significant amount of phytonutrients, which is why they are considered "superfoods" by some experts.
Is it suitable for my baby?

Of course! Our products are 100% natural, without any added preservatives or chemicals that could affect your children's health. Moreover, our formula doesn't contain 8 of the most common allergen elements, so it is suitable for babies. FoodNerd products contain nutrients that will benefit any child's growth and development.
Which flavor do I pick for my baby?

Choose what your baby likes! From stage 3, we offer various flavors, so you can pick what your little one likes the most. The nutritional value remains the same and is all thought to add value to that particular development stage.
Do I have to order the whole meal plan?

Although we offer a monthly subscription plan that you can start during pregnancy, you can also order FoodNerd products à la carte, so you order those meals that you want for your baby.
What does "habit development" mean?

Although you can't force your kid to eat, you can provide nutritious foods, teach healthy eating habits, and make mealtimes enjoyable. This is how we get into routines and habits from an early stage. We have to make sure our kids learn to like different kinds of foods during childhood so that their palate gets used to them.