For Parents
Why broccoli sprout powder?
Broccoli sprouts are extraordinarily rich in nutrients and phytonutrients. 
Our sprouts come from certified organic, phytonutrient-rich broccoli seeds. One of the most well known and sought after phytonutrients coming from broccoli sprouts is Sulforaphane. 
What is sulforaphane?
Sulforaphane is a phytonutrient with well-documented health-promoting properties, including: 
Antioxidant
Anti-inflammatory
Anticancer
Antimicrobial (selectively combats certain bacteria & viruses)
Anti-aging
Neuroprotective (protects brain cells)
Anti-diabetic 
For decades, our chief scientific advisor, Dr. Jed Fahey at Johns Hopkins University and researchers around the world have been publishing the incredibly promising results of studies with broccoli sprouts and multiple chronic conditions,.
Packaged and portioned perfectly to make your daily sulforaphane easy, just 1 scoop of FoodNerd's Broccoli Sprout Powder gives you ~4.75 mg of sulforaphane!  
How to Use
: Naturally bitter, add it to smoothies or juice (pineapple and lime works best!) to hide the flavor. Add on top of salads for a natural zing. Or, our favorite, mix with water and take as a healthy shot! 
Learn more about the health benefits of sulforaphane in this blog post by our dietician, Trish Shea.
This product has not been evaluated by the FDA. This product is not intended to diagnose, treat, cure or prevent any disease.
Regular price
Sale price
$20.00
Unit price
per
Sale
Sold out
Share
View full details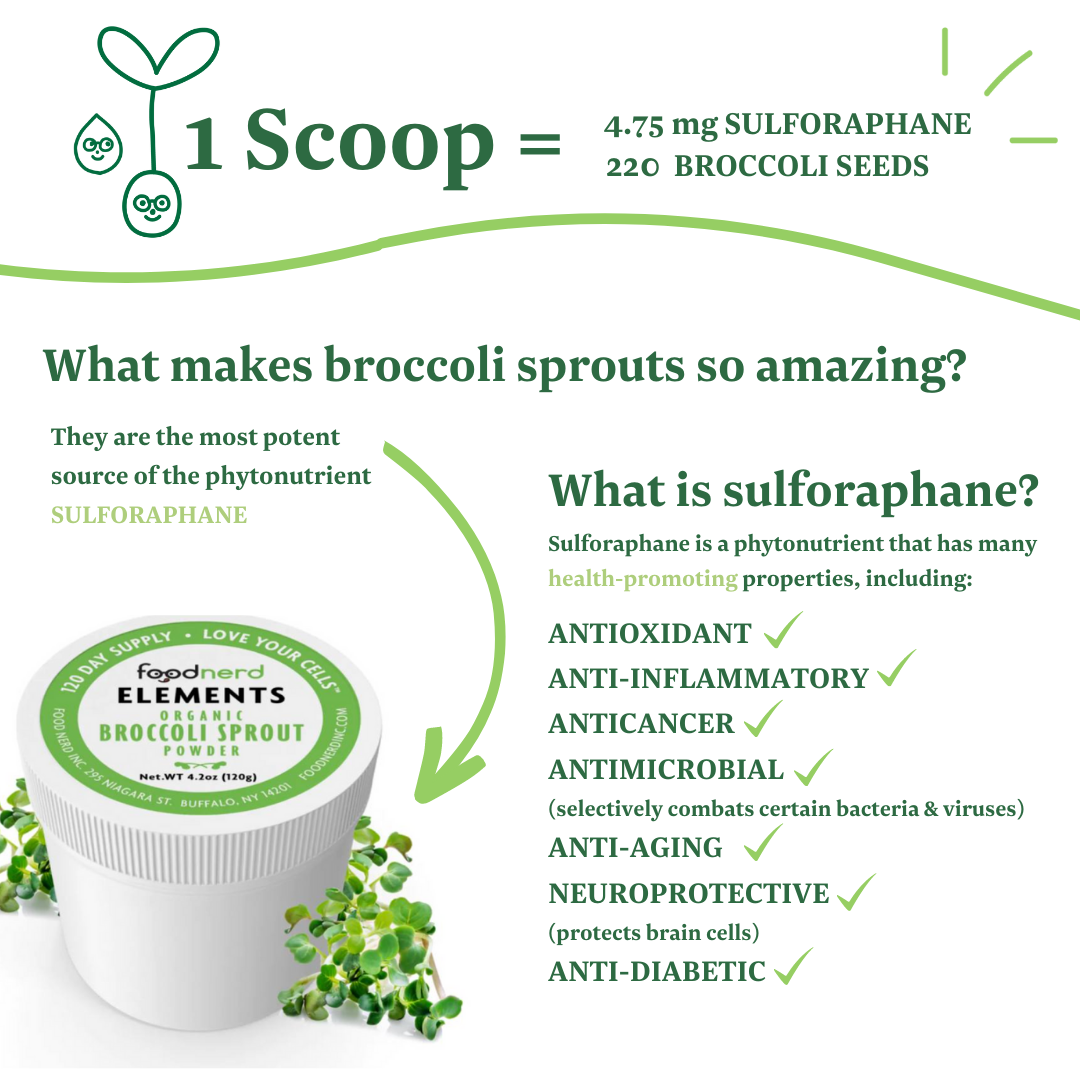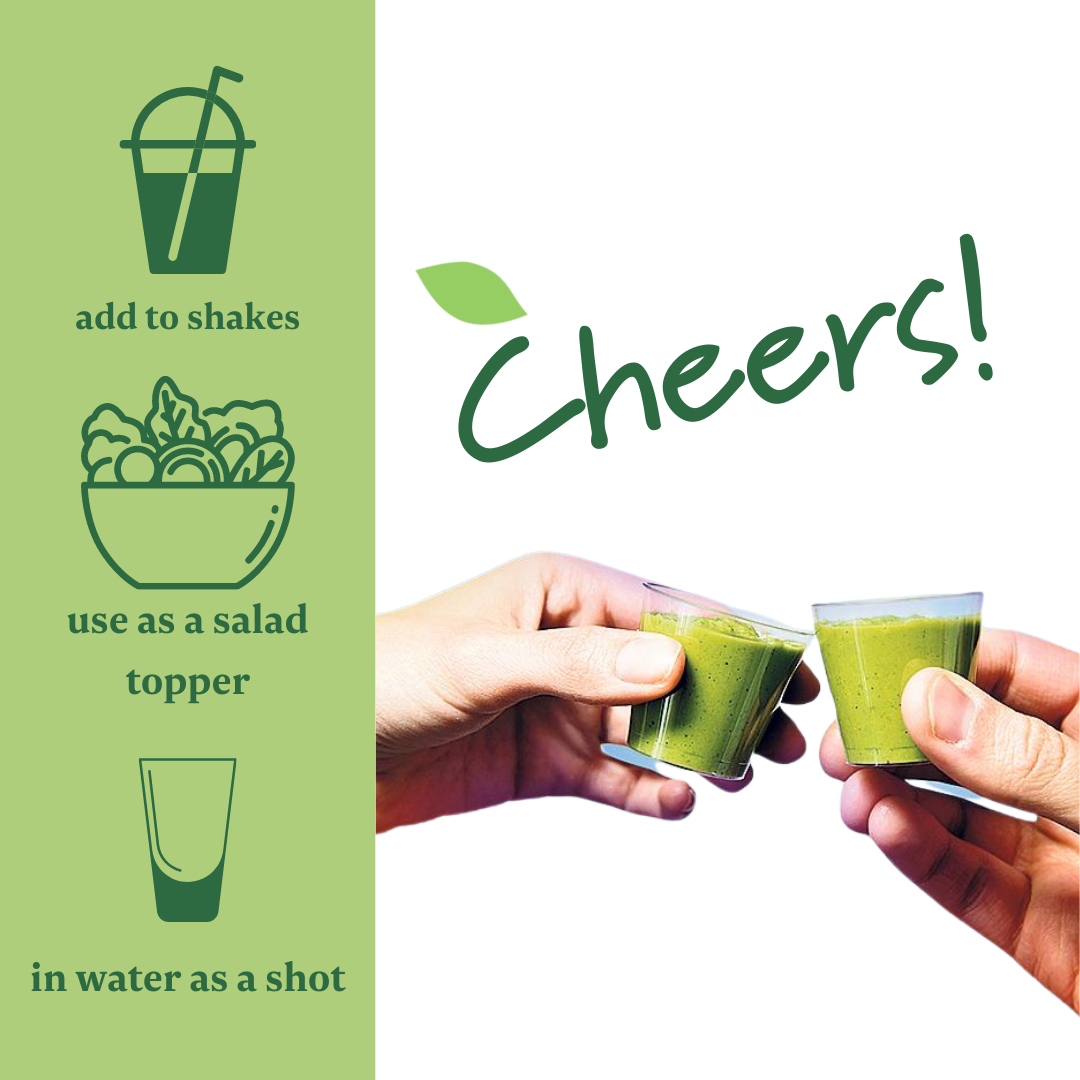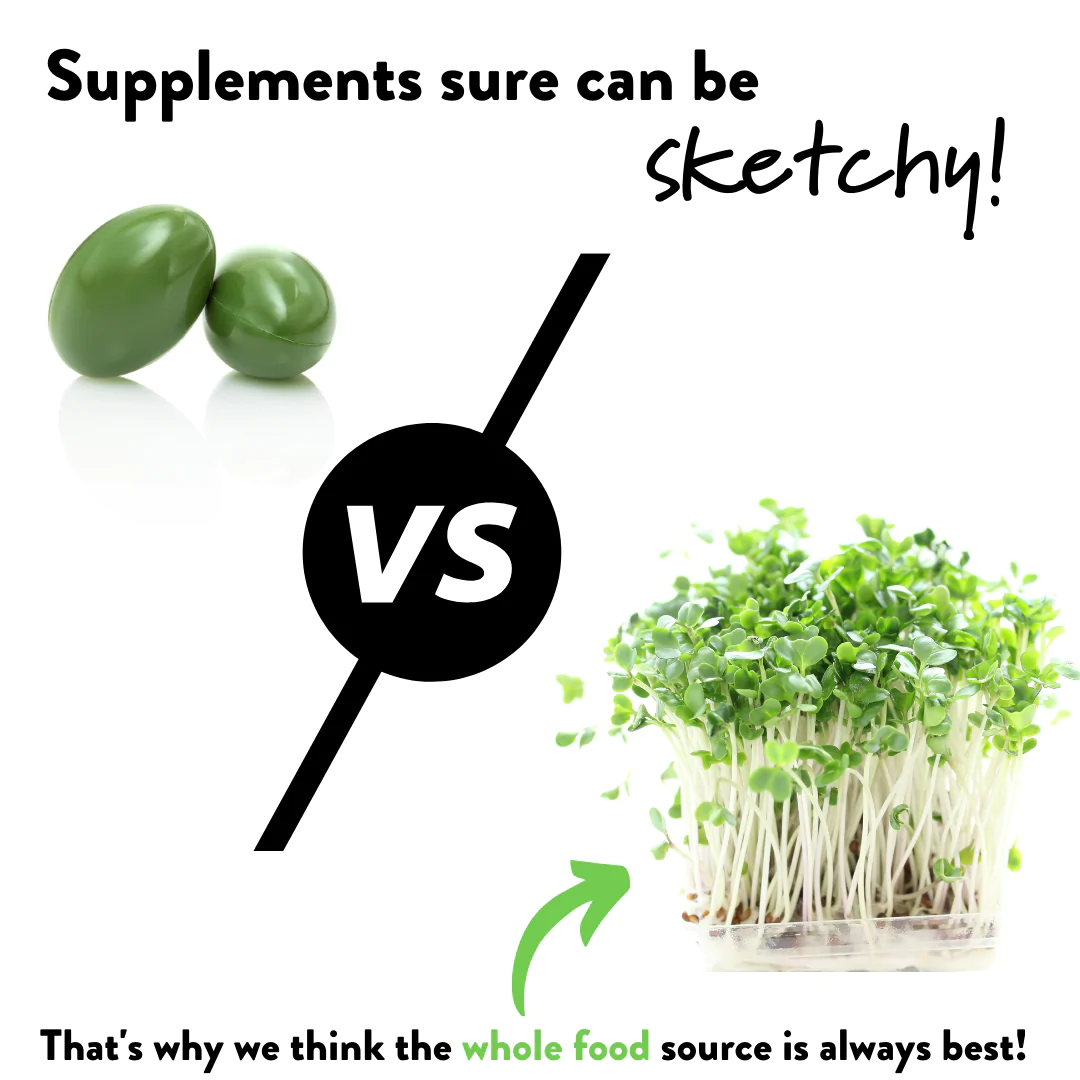 Health care
Healthy foods and supplements is our new health care. It feels great putting your hard earned money into a healthy diet and these sprouts are a great addition! To your optimal health!
the powder is very convenient, can be added to almost everything
Great product!
easy to use and very healthy for you!
Excellent Product
I had been using broccoli sprouts for a long time. They were expensive and as a one-person household they often spoiled before I could use them. I learned about the Organic Broccoli Sprout Powder and it's a winner for me. I get more benefits for far less money. I love using the product. I buy the 120-day supply and it keeps well. Totally recommend.
Elements: Organic Broccoli Sprout Powder
It's amazing to be able to get sulforaphane in powder form. And, a little goes a long way!
Great way to get in your sulforaphane!
I use this powder daily when we don't have broccoli sprouts on hand. Sprinkling it on salads is the easiest way I've found to get it in. I love knowing I'm getting in this powerful antioxidant every day!
Frequently Asked Questions
What are Phytonutrients?

These are nutrients we obtain from specific plants that have demonstrated significant benefits for our health. They help strengthen our immune system and help children with their development during their first years of life. Natural products like beans, nuts, and whole grains have a significant amount of phytonutrients, which is why they are considered "superfoods" by some experts.
Is it suitable for my baby?

Of course! Our products are 100% natural, without any added preservatives or chemicals that could affect your children's health. Moreover, our formula doesn't contain 8 of the most common allergen elements, so it is suitable for babies. FoodNerd products contain nutrients that will benefit any child's growth and development.
Which flavor do I pick for my baby?

Choose what your baby likes! From stage 3, we offer various flavors, so you can pick what your little one likes the most. The nutritional value remains the same and is all thought to add value to that particular development stage.
Do I have to order the whole meal plan?

Although we offer a monthly subscription plan that you can start during pregnancy, you can also order FoodNerd products à la carte, so you order those meals that you want for your baby.
What does "habit development" mean?

Although you can't force your kid to eat, you can provide nutritious foods, teach healthy eating habits, and make mealtimes enjoyable. This is how we get into routines and habits from an early stage. We have to make sure our kids learn to like different kinds of foods during childhood so that their palate gets used to them.