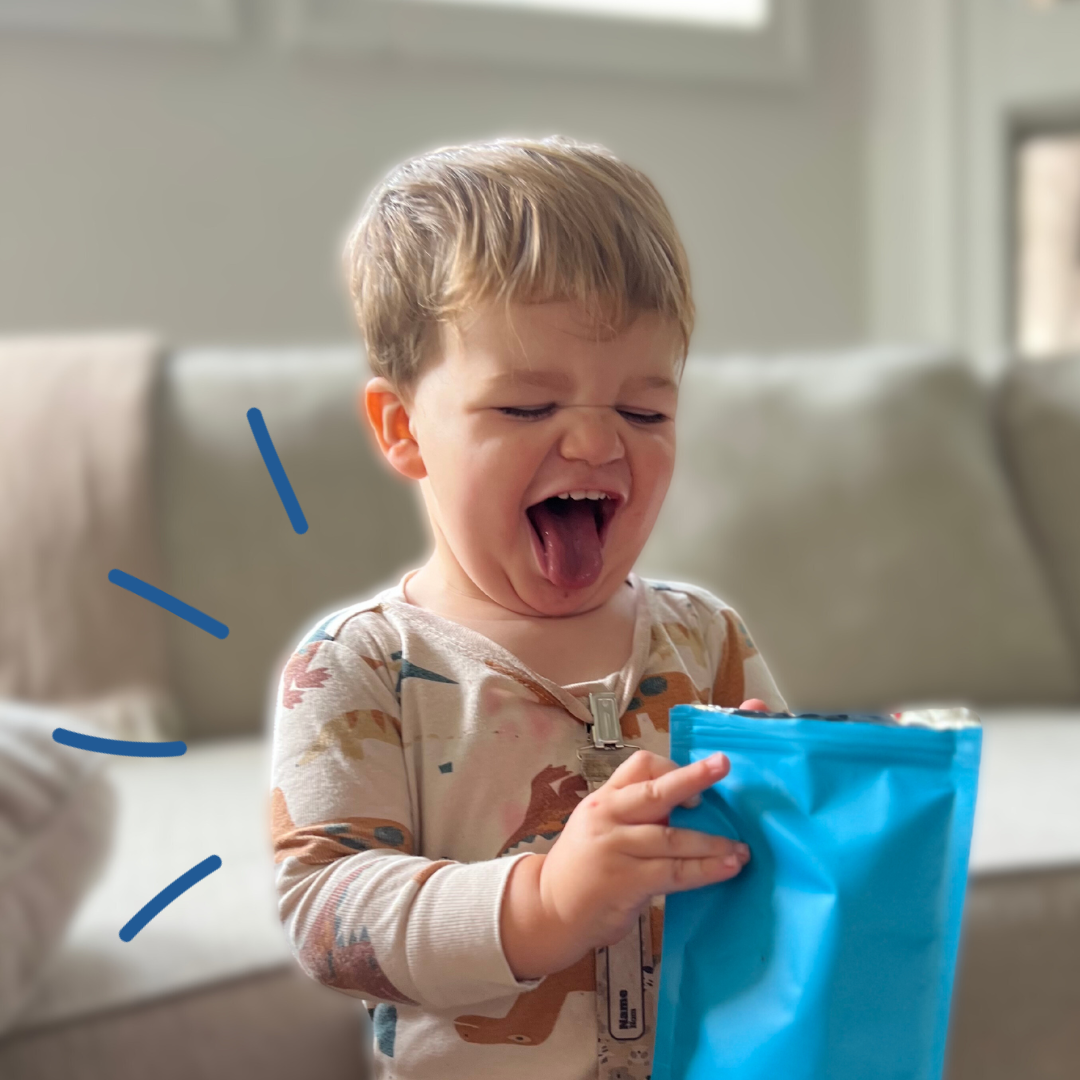 We Believe in the Right Food, Given at the Right Time, Made the Right Way.
At FoodNerd, we are a team of passionate moms with a shared mission: to revolutionize the way we make food for our babies. We understand the importance of nourishing our little ones with the best possible nutrition. That's why we are committed to offering our fellow moms, parents, and families food that truly matters—cleaner, healthier alternatives that ensure you and your children receive the vital nutrients you need to thrive today, tomorrow, and beyond.
Try Our Puffs
The Right Food
At FoodNerd, we prioritize your child's well-being by providing them with the right food – everything they need, and nothing that they don't. We understand the challenges of busy parents, and that's why we're here to support you with a carefully curated selection of nutritious choices, ensuring your child receives the perfect blend of natural, wholesome nutrition they deserve.
Collapsible content
What We Are

At FoodNerd, our commitment to providing the best for your child shines through our inclusion of a unique and diverse range of fresh, organic fruits and vegetables. What sets our ingredients apart from our competitors is our unwavering dedication to using sprouted seeds as the base for all our products. While others still rely on grain bases, we recognize the superior nutritional nature of seeds, ensuring that your child receives the utmost nourishment with every bite.
What We Aren't

At FoodNerd, we believe in providing the best for your child by focusing on what we don't include in our products. All of our products are non-GMO, have no added sugar, and are free from refined oils and flours. We prioritize the health of your child by offering products that are low in AGEs (advanced glycation end-products) and strictly avoiding ultra-processed ingredients and techniques.
At the Right Time
Your child deserves food that facilitates their development. That's why at FoodNerd we formulate our products to promote your child's gut, brain, and palate development.
Collapsible content
Gut

We understand the vital role of plant diversity in promoting optimal gut health for your child. By offering a wide range of unique fruits and vegetables, we provide a rich source of prebiotics that feed their microbiome that nurtures their growth, development, and overall well-being.
Brain

We prioritize your child's brain development by using sprouted seeds instead of flours in all our products. These nutrient-rich seeds offer a natural source of healthy fats to support your little one's rapidly growing brain during their crucial first five years of life.
Palate

We're committed to nurturing your child's growth, both now and in the future. Our carefully formulated products introduce a diverse range of flavors, including sweet, sour, umami, and bitter from plants that they may not typically consume on their own. By exposing them to these varied tastes, we aim to develop their palate, fostering a lifelong love for vegetables and encouraging healthier eating habits.
Made the Right Way
In a world where 67% of a child's diet consists of ultra-processed foods (UPFs), FoodNerd dares to challenge the status quo. As fellow busy moms, we understand the importance of creating a product that is not only convenient and shelf-stable but also nutrient-dense. That's why FoodNerd has pioneered a positive processing technique, carefully preserving the natural nutrient profile of fruits and vegetables. Our mission is to drive meaningful change in the current food landscape by offering wholesome options that are both convenient and packed with vital nutrients (without compromising taste)!
Collapsible content
Positive Processing

We embrace the power of positive processing to honor nature's unique complexity and maximize the nutrient density of our plant-based products. By combining scientific advancements and the power of superfoods, we strive to preserve the integrity of ingredients, unveiling their full potential and enhancing bioavailability for optimal nutritional benefits.
Nutrient Lock Technology

How do we attain Positive Processing? With our unique methodology: Nutrient Lock Technology.

FoodNerd's Nutrient Lock Technology revolutionizes the preservation of our mega food products, starting with the sprouting of fresh organic seeds to unleash their nutritional potential. We combine these nutrient-rich sprouted seeds with fresh organic fruits and vegetables. Utilizing our patent-pending cold technology and gentle freeze drying process, we carefully remove water without subjecting our products to high heat or excessive processing. This results in a shelf-stable food that retains exceptional levels of super nutrients, ensuring unparalleled nutrient density akin to the natural goodness found in nature.